Five million Americans suffer from Alzheimer's disease and dementia. Though well intentioned, many care providers are not equipped to fully meet the needs of those with dementia.
The documentary Alive Inside investigates the power music to awaken deeply locked memories. The film follows Dan Cohen, a social worker, who decides on a whim to bring iPods to a nursing home. To his and the staff's surprise many residents suffering from memory loss seem to "awaken" when they are able to listen to music from their past. With great excitement, Dan turns to renowned neurologist Dr. Oliver Sacks, and we follow them both as they investigate the mysterious way music functions inside our brains and our lives.
How do I want to age? What can we do for our loved ones? Can we do better?
A man with a simple idea discovers that songs embedded deep in memory can ease pain and awaken these fading minds. Joy and life are resuscitated, and our cultural fears over aging are confronted.
Besides telling a moving story, this film encourages widespread adoption of personalized music programs in nursing homes and outpatient therapy in homes. Alive Inside raises questions about how we as a society care for the elderly and afflicted.
ALIVE INSIDE is a joyous cinematic exploration of music's capacity to reawaken our souls and uncover the deepest parts of our humanity.
Filmmaker Michael Rossato-Bennett chronicles the astonishing experiences of individuals around the country who have been revitalized through the simple experience of listening to music. His camera reveals the uniquely human connection we find in music and how its healing power can triumph where prescription medication falls short.
This stirring documentary follows numerous visionaries in healthcare including social worker Dan Cohen, founder of the nonprofit organization Music & Memory, fights against a broken healthcare system to demonstrate music's ability to combat memory loss and restore a deep sense of self to those suffering from it.
Rossato-Bennett visits family members who have witnessed the miraculous effects of personalized music on their loved ones, and offers illuminating interviews with experts including renowned neurologist and best-selling author Oliver Sacks (Musicophilia: Tales of Music and the Brain), healthcare visionaries Dr. Bill Thomas, Dr. Al Powers, Naomi Fiel, and musician Bobby McFerrin ("Don't Worry, Be Happy").
An uplifting cinematic exploration of music and the mind, ALIVE INSIDE's inspirational and emotional story left audiences humming, clapping and cheering at the 2014 Sundance Film Festival, where it won the Audience Award.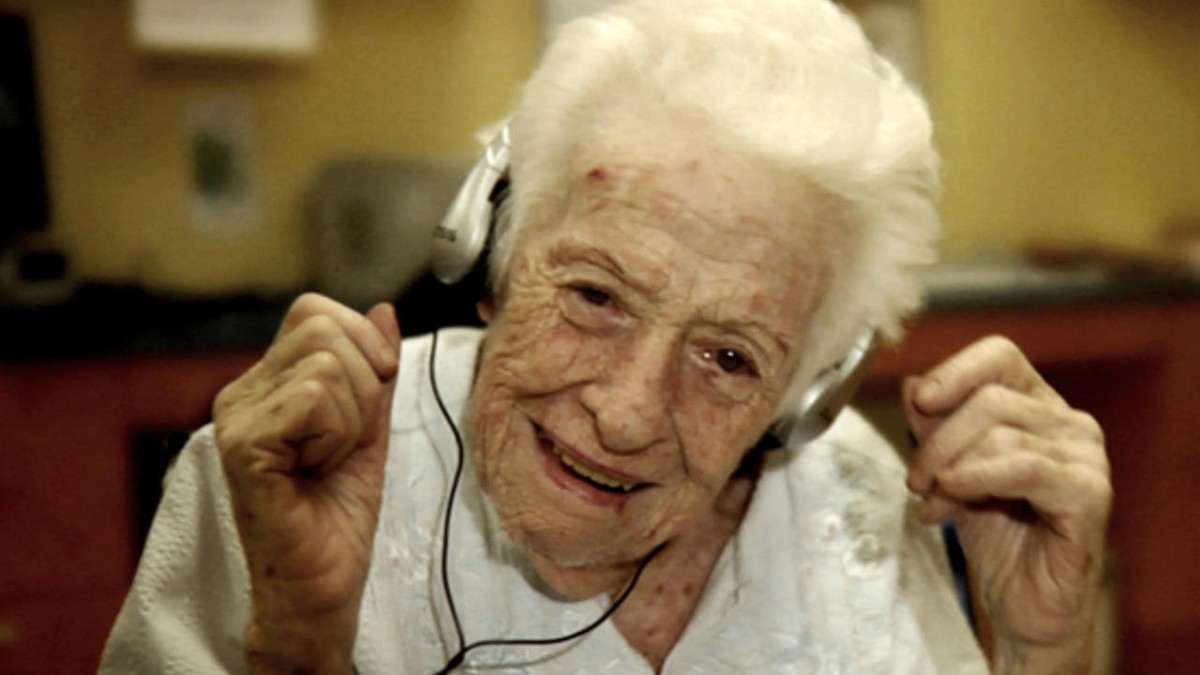 It would seem obvious that this kind of therapy should be readily available in long-term care settings, but Dr. Bill Thomas (American Geriatrician and author of "Second Wind: Navigating the Passage to a Slower, Deeper and More Connected Life"), explains "The healthcare system imagines the human to be a very complicated machine. We have medicines that can adjust the dials; blood pressure, oh turn that down; blood sugar, oh turn that down. We haven't done anything to touch the heart and soul of the patient". He argues that the chemical drugs are where the business is, and that he could easily write a prescription for $1000 worth of pills but not for a $40 iPod. Director Michael Rossato-Bennett, who supports Dan's attempts to bring personalized music into as many care-homes in America as he can, reiterates "We have no problem spending tens of thousands of dollars on drugs that don't work, but if we could delay people going into nursing homes – even for 6 months – we'd save billions".
In the film, exploring the complicated business of "growing old" adds another dimension to the argument for music therapy by addressing other issues such as families delegating almost completely the care of their elderly relatives to formal carers and the evolution of the care-home industry. The filmmakers suggest that growing old is another part of being alive, and that elder-hood is just as real and complicated as childhood, adolescence and adulthood.